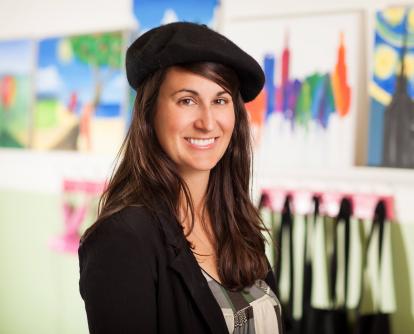 August 17, 2016
IF LIFE THROWS YOU LEMONS, MAKE LEMONADE
As a lead up to the launch of Annah Stretton's next book – FLOURISH, Discover the Art of Living Life in Colour – we will be sharing the stories of the women who have featured in the book. This week we would like you to meet Amanda Anthony – owner and founder of Paint 'n' Sip Studios; a business all about creativity, fun and socialization.  The idea is that you, and a group of friends, are hosted for the evening by an artist who guides you, step by step, to create the featured painting of the night while you sip your way to a one of a kind masterpiece!!   Love it!  Getting this concept off the ground however took an enormous amount of self-belief and determination.  Here's Amanda's story.
Amanda, a native of the vibrant city of New Orleans, arrived in Christchurch just 3 weeks prior to the February 2011 earthquake.  Having lived through her fair share of natural disasters she knew it was the strength of community that made all the difference to rebuilding lives.
So, without knowing a soul other than her kiwi fiancée, she began to explore whether a business idea that had taken off in the aftermath of Hurricane Katrina was just the thing to help rebuild community connections and enable her to meet a whole new group of people.
Sadly not everyone agreed.   "Everyone thought I was crazy, everyone!  But the more 'no's' I received the harder I worked to get what I wanted and what I knew would work out. I don't deal well with no, there is always a way to make your dreams or passions a reality – HARD WORK – and I wasn't letting anyone stop me, especially the non-believers!
And while it took 5 months longer to get underway than she had originally planned, Amanda's Paint'n'Sip business successfully launched – an absolute testament to her self belief, grit and determination!
Given the many obstacles and barriers that Amanda faced along the way we asked her to share some of the wisdom that this experience has taught her.
Do your research! – Amanda went in with her eyes wide open having done a lot of upfront research and analysis on the viability of her concept.  "If you know all the pros and cons before you begin, there is nothing to fear or doubt."
Surround yourself with positive people – this will counter balance all the non-believers you meet along the way.
Stick to your guns – some things are out of your control and as frustrating as it is, you cannot let that get you down.  Knowing what you stand for and sticking to that is very important especially when the critics come out and there are always lots of critics.
If life throws you lemons, make lemonade – Amanda experienced many set backs in attempting to secure a property lease and while her heart was set on securing a inner city location, ultimately she had to reset that part of the plan and has ended up with a perfect location in the suburbs.
Always remember why you started – Always stay focused on what made you begin.  "It's so easy to get tunnel vision so take the time to step back and enjoy everything you achieve along the way".
Put yourself on the map! – Before the business opened, I joined the local Chamber of Commerce and attended a few of the networking events. I also joined a business breakfast networking group and enrolled in a business course. Social media (Facebook) also played a huge role in getting us some much-needed exposure.
Keep going!  If it were easy, everyone would be doing it.
To find about more about Paint 'n' Sip – now in Christchurch and Queenstown – visit their website right here – http://paintnsip.co.nz/
AS SEEN ON http://annahstrettonunlimited.com/2016/08/17/life-throws-lemons-make-lemonade/