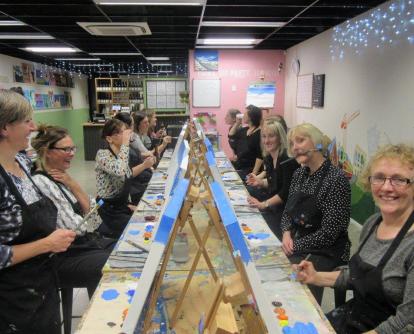 June 20, 2016
Paint 'n' Sip - a fun revelation in creative expression
What's Up Christchurch was invited to attend a Paint 'n' Sip session in Christchurch. It's a winner for the playful-at-heart or anyone who has a give-it-a-go attitude.
You rock up to the Paint 'n' Sip studio in Ilam Road, Christchurch with no artistic bone in your body,  just an aptitutde for randomness and a give-it-go attitude.  Then you come away with an almost half-decent work that makes you think, 'this might just become a hobby'.

Paint 'n' Sip is a personally revealing experience. 
Armed with the pre-provided canvas, brushes and some paint, the tutors (Lisa and Sam on this occasion) give you sufficient instruction at the outset.  Enough to make make you mildly confident that you might actually paint something you won't be completely embarrassed showing your kids at the end of your two-hour endeavour.
Lisa and Sam stand on the small platform with Janet Jackson-styled microphone-headpieces,  enticing you to give it a go.  But unlike bouncers at a trendy nightclub, they give the 12-aproned wannabe artists an embracing welcome.
'LiSam' demystify the process, explain the paints and the oddly-named brushes, then doodle a paint-mixing technique that helps unravel the secretive world of the Masters that created Mona Lisa and The Scream. The Pleasure Principle (a Janet Jackson song for the uninformed) would be an apt description for the theme of their introductory chat - just have fun!
Today it's an open paint event. You select one of the artworks on the wall and LiSam guide you through the process of trying to match the techniques and creativity.  Other sessions include Paint Your Pet, Paint Like Picasso and Paint Your Partner.
My painting partner on this occasion opts for a slimmed-down "Cathedral Square" version of Vincent van Gough's Starry Night.  I select a another von Gough-inspired Sunflower painting.
Both novices, we create while supping Waipara pinot noir from the surprisingly extensive wine, beer and cider list. They also offer low and non-alcoholic beverages.
The musical accompaniment to our creative pursuit adds to the casual atmosphere.  We glide our brushes across the canvas while bopping and singing along to a popular playlist which includes ACDC, Bon Jovi, Michael Jackson and Stevie Wonder.
Halfway through the session it's time for nibbles and a break, although most are too involved with their creations to take a proper breather.
There's no doubt you're guaranteed a blast at Paint 'n' Sip.  Both the uninitiated and more experienced will be assured firm guidance in a convivial setting and a laugh-or-two during the session.
It would be the perfect start to a girls night out, a first date or a flatmate bonding session.  Paint 'n' Sip also specialise in corporate functions and private event bookings.
They provide all the painting materials needed: acrylic paint on 400mm x 500mm canvas; photos taken throughout the session which are posted on their Facebook page; brushes and apron. All-the-while, ensuring you're having a great time exploring your creative side with a one-of-a-kind artwork to take home.
It's well worth a go and it's become so popular they now have a Queenstown operation.  No wonder they were a finalist in the 2015 Champion Canterbury Business Awards, in the Champion Retail/Hospitality category.
Paint 'n' Sip is highly recommended for the playful-at-heart.  Even the cynical will be quickly won-over by the engaging and welcoming environment.  
If you don't think you've got what it takes to be creative, then try Paint 'n' Sip, you'll be thoroughly surprised just how expressive you can be, and, maybe, even learn something about yourself in the process. 
Thanks What's Up Christchurch 
http://www.whatsupnz.com/#!Paint-n-Sip-a-fun-revelation-in-creative-expression/ls7d7/57665c400cf2a84be59f478f