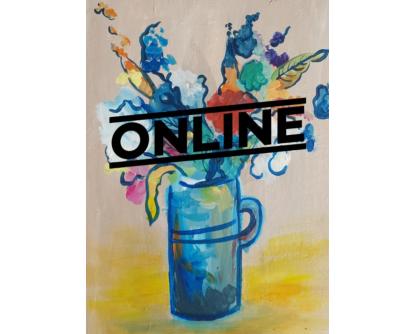 Sunday, September 12th, 2021
noon - 2pm
Beautiful Bouquet
Includes:
Step-by-step painting instruction given by one of our artists - ONLINE!
A whole lot of fun getting creative in the safety of your own home
Only 1 seat needed per household bubble! 
Does NOT include:
We have Click & Collect supplies available for purchase on our calendar. Pick up is from our Studio at The Arts Centre, 1 Hereford Street in Christchurch. Note: all sessions times are NZST, but you can join us from anywhere in the world!
If you purchase a Click & Collect kit you will receive a voucher to attend an online session!
Click & Collect Hours until Wednesday, 15th September 2021:
Wednesdays 12pm - 3pm
Fridays 3pm - 6pm
Saturdays 12pm - 2pm 
Other times by arrangement
Supplies needed:
Acrylic paint
Canvas (or paper, cardboard, or any flat surface you can paint on)
Paint palette (can be an old ice cream container lid, paper plate, etc)
Brushes (2 - 3 brushes ideally, one large (1cm or wider for blending and one small for detail work)
Pencil 
Old rag / paper towels
Paint water cup
Nice to have:
Hair Dryer 
Easel 
Apron 
A drink and a snack if you wish!