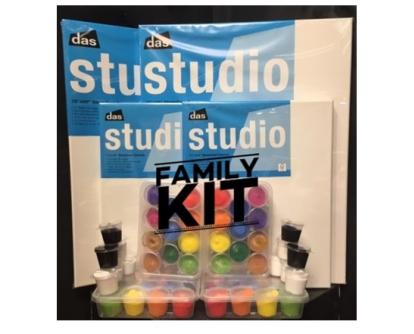 Sunday, May 31st, 2020
1am - 11pm
Family Paint Kit
Click & Collect Art Supplies!
Family Kit Includes:
2 Large Canvases (16 x 20 inch)
2 Medium Canvases (11 x 14 inch)
4 Sets of Paints
2 Online Session Vouchers
PICK UP ONLY - PLEASE NOTE WHEN PURCHASING WHEN YOU PLAN TO PICK UP. 
We are open for Click & Collect starting Tuesday, 28th April at the following days/times:
Tuesdays 12pm - 3pm
Thursdays 3pm - 6pm
Saturdays 10am - 1pm 
Other times by prior arrangement
NOTE: We are awaiting supplies of new brush sets to offer for sale. Should you require brushes, we will lend you a set of 3 (sanitised) Studio brushes for a $10 cash bond (or direct bank transfer)/per set. The full $10 bond per set will be refunded upon return of the brushes. We are also offering a limited number of (sanitised) Studio kits comprising 1 Easel, 1 Paint Palette, 1 Paint Cloth, 1 set of Brushes for $30 cash bond (or direct bank transfer). Again, the full deposit will be refunded upon return of the Studio kit.    
If you wish to collect a set of brushes/studio kit on loan please indicate in your booking notes! We will accept cash payment/direct bank transfer of the fully refundable bond on the day of pick up.