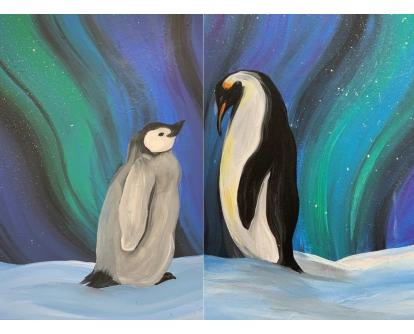 Sunday, February 14th, 2021
2:30pm - 4pm
Valentines Afternoon!
Paint a Mini-Mural! The featured painting can be created over 1, 2 or more canvases so bring your family, housemates, work group or other half and create a collaborative masterpiece! Change colours to suit your decor, etc.
Includes:
1.5 hour step by step painting session led by one of our artists 
all painting materials needed to complete the painting
acrylic paint on stretched medium-size canvas
photos taken throughout the session & posted on our Facebook page
heaps of fun exploring your creative side
one-of-a-kind masterpiece to take home
and best of all - we clean up!
Note:
Cost is per person/canvas. Please book the number of seats required for the group. 
You are also welcome to book a single seat/one canvas.
We only reserve seats once we have received payment in full
Drinks are excluded in your seat cost and can be purchased separately from our in-studio bar (refer to FAQ for menu) 
No BYO is allowed as we have alcoholic, low alcoholic, non-alcoholic options available for purchase and water is provided for free
Our demonstration and display paintings are for your use solely on our premises and must not be reproduced outside of the studio