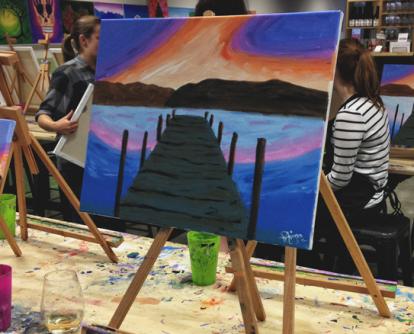 March 23, 2015
Find Your Inner Artist
THEY SAY PAINTING IS A FORM OF THERAPY. SOME SAY THE SAME ABOUT WINE. HERE, YOU DONT HAVE TO CHOOSE. 
Words and Photos by Petrina Chai / Monday 23 March 2015 
Many thanks to Petrina from We Built This City who visited us & wrote about us below.... 
Well, summer is officially over.  While I'm still in denial about this seasonal change thing, the temperatures have quite steadily been dropping and the search for fun things to do on a weeknight that are preferably indoors, warm, and just a little bit different has begun in earnest. Look no further Christchurch, consider this a Public Service Announcement as we have found the perfect solution to this little dilemma. The answer is Paint 'n' Sip.
Now what exactly is Paint 'N' Sip? Well its quite literal. The concept is that you paint and while you paint, you sip on a beverage of your choice. There is a small selection of delightful beers, wines and non-alcoholic beverages on offer at the bar and you then get to unleash your inner artist under the very thorough and much welcomed guidance of one of the resident artists.
Amanda Anthony is the delightful and welcoming owner who after the February earthquakes brought the idea over with her from New Orleans, where it first started as a fundraising opportunity that ended up taking off across the States. 
Because it is awesome.
Each class attempts a specific painting - there is a calendar available on the website with details of what you can paint each night of the week for the month. We took on the Akaroa Pier, an artistic challenge that we must admit, was rather nerve-wracking but Amanda and Sam, our instructor for the evening and a Fine Arts student from the University of Canterbury managed to put everyone else at ease.
You are taken through everything step by step and I was surprised with just how much fun we ended up having and as it turns out, I'm not a bad painter! Halfway through there is a break where snacks are served and you are encouraged to get up and have a wander, to refresh your drink, and meet new people which is something that is actually pretty hard to do in Christchurch so that's a definite bonus!  I can verify that is is perfectly acceptable and not at all awkward to venture there solo.
The atmosphere in the studio is relaxed and friendly, it doesn't matter how much experience you have in the painting realm and everyone who was there that night was just lovely. There were lots of laughs, a lot of positive encouragement (from people I had just met!) and just good, clean fun. The company was great, but the entire experience (aka the wine) was even better.