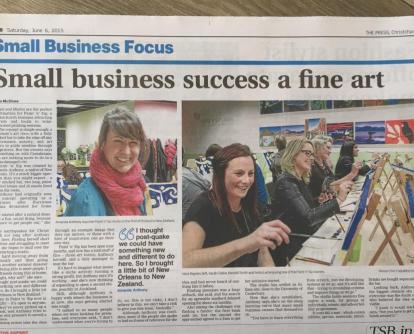 June 06, 2015
Small business success a fine art

Paint 'n' Sip Studio the first in Christchurch
printed in the Press on 6 June 2015, by Tess McClure
Monet and Merlot are the perfect combination for Paint 'n' Sip, a Christchurch business attracting tourists and locals to wine-fuelled painting sessions.
The concept is simple enough: a beginner's art class with a fully stocked bar to take the edge off any performance anxiety, and art tutors to guide newbies through the process. But the owners says it's catching on with Cantabrians, who are seeking more to do in a quake-damaged city.
Paint 'n' Sip is a project of Amanda Anthony, a native of New Orleans. It's much bigger operation than you might expect - a fully stocked bar, two long, paint-crusted tables and 32 easels lined across the room.
Anthony had originally seen the concept operating as a fundraiser after Hurricane Katrina devastated her home town.
"It started after a natural disaster as a fun, social thing, because you have to get people out," she says.
The earthquakes hit Christchurch not long after Anthony moved here. Finding herself short on hobbies and struggling to meet people, she started to mull over the idea of starting a studio in Christchurch.
"It's hard moving away from your family and then going through another natural disaster and not being able to meet people. I saw my friends doing this at home, so I thought, why not?" she says.
"I thought post-quake we could have something new and different to do here. So I brought a little bit of New Orleans to New Zealand."
The key to Paint 'n' Sip now is accessibility - it's open to anyone, even if they've never picked up a paintbrush, and Anthony tries to take away any pressure to unveil a masterpiece.
Practicing artists take the class through an example image that they can imitate, or those with a hit of inspiration can go their own way.
Paint 'n' Sip has been open 9 months, and now has a total staff of five - three art tutors, Anthony herself, and a duty manager to man the bar. 
It's hard to imagine what seems like a niche activity turning a strong profit, but Anthony says it's working - and she's now thinking of expanding to open a second studio, possibly in Auckland. 
Still, while Anthony is happy with where the business is at now, she says getting started was tough. 
"I talked to so many people when we were looking for a premise, and everyone said, 'I don't understand what you're trying to do, no this is too risky, I don't believe in this, we can't take a risk to give you this lease,' basically." 
While Anthony was confident, most of the people she spoke to had no frame of reference for the idea and had never heard of anything like it before.
Finding a premise was a huge setback, she said, and delayed opening for about 6 months while they looked for a landlord to take them on.
Also among the challenge was finding a funder: the first bank said no, but the second she approached said yes to a loan to get her started.
The studio is now settled in its Ilam site, close the University of Canterbury.
Now that she's established, Anthony says she's on the steep learning curve that many small business owners find themselves on.
"You have to learn everything from scratch, just me developing systems as we go, and it's still like that - trying to streamline systems and improve things as we go."
The studio holds sessions five nights a week, for groups or individuals, events, and kids school holiday programmes. 
It costs $45 a seat - which covers nibbles, aprons, materials, tutors. Drinks are bought separately from the bar. 
She says now that doubt from people thinking the idea would not work was the biggest obstacle she had to overcome.
"I knew it would work," she says, "but you have to get people's heads around it."
http://www.stuff.co.nz/the-press/business/69097923/paint-n-sip-studio-the-first-in-christchurch