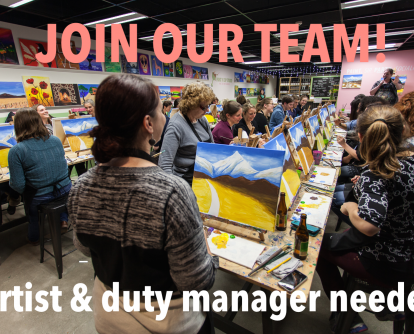 September 28, 2015
We are HIRING!
Rockstar Artist & Duty Manager Needed!
http://www.trademe.co.nz/a.asp?id=956620963
THE ROLE:
*We are looking for very outgoing, social, positive and vibrant artists to join our team 
*Must love entertaining a group of up to 32 people varying in ages (from 7+) while providing step-by-step instructions to complete a painting in 2 hours. 
*Be able to provide a welcoming, social, creative and fun atmosphere for our paint & sippers with differing levels of painting knowledge
*Responsible for the set up of the studio, customer registration, food prep, taking drink orders, taking photos, teaching the class & clean up of studio, etc. 
*work alongside one of our other artists/hosts for each session and will be trained on our host responsibility policy.

MUST HAVES 
*Experience in the hospitality industry
*Current manager's license (if applying for duty manager position)
*Patience, clear communication and having a good time is a must
*Be team orientated 
*Social skills must be top notch
*Responsible, reliable & trustworthy
*Extremely creative and a bit funky, we are after an artist after all
*Ability to follow our systems and processes which enables a fun night out for our guests
*Ability to create new paintings as per our requirements & brainstorm ideas 
*Painting qualifications are not essential, but experience and knowledge in using acrylic paint on canvas is required. 

AVAILABLE HOURS (changes weekly)
*Part-time position available 
*Flexible availability of week days/nights & weekends is required
*You must be available for at least 8-12 hours a week, which is approx 3 sessions/week
*Due to the nature of our business, some weeks may be more or less depending on public session bookings and private events booked in
*Our scheduled public sessions are currently Tuesday – Saturday 7- 9pm & shifts would be 6-10pm
*Private events can be booked anytime so hours will vary between weekdays, weeknights and weekends (refer to our online calendar for an idea of current bookings)

APPLICATION 
*Portfolio supplied of past work, specifically acrylic painting on canvas 
*CV and previous/current work experience with current references 
*LCQ & Manager's Certificate supplied if applying for Duty Manager position
*Applications must be received by 5 October 2015

INTERVIEW 
*You will be contacted within a week of your application to arrange an interview 

GENERAL
*Pay rate will be discussed with applicant


POSITION STARTS (training provided)
*13 OCTOBER 2015

Applicants for this position should have NZ residency or a valid NZ work visa.